Criminal Networks and Local Allies.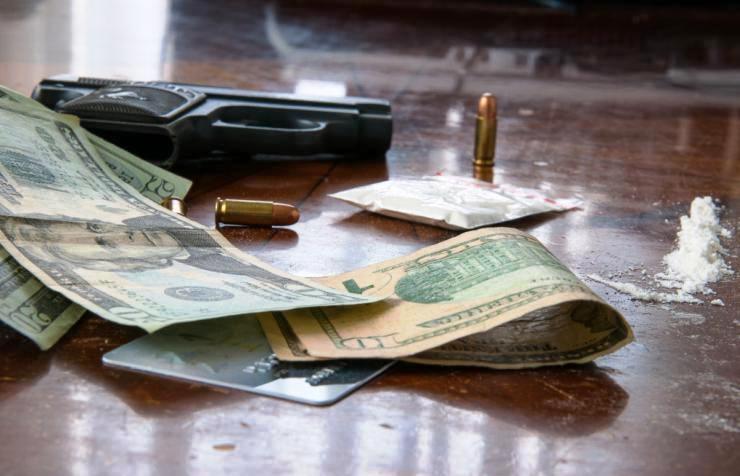 The Latin American cartels, from Bolivians to Mexicans. The Italian 'Ndrangheta. The 'friendships' with African entrepreneurs and politicians. Diffusion and complicity in an expanding market.
It was May 2021 when in an Interpol operation, with the collaboration of 41 African and Middle Eastern countries, narcotics were discovered, especially cocaine and cannabis, worth 100 million euros, and culminating with the arrest of 287 people. The operation had been carried out in Niger, with the seizure of 17 tons of cannabis destined for Libya, to then continue on to Europe (value: 31 million euros). In South Africa, the seizure took place on a boat that was hiding cocaine worth around 32 million euros. In the same operation, 4.5 million tablets of tramadol and 200 kg of amphetamines were also seized. In September 2022, a record seizure was recorded in Nigeria: 1.8 tons of cocaine seized, worth approximately $280 million.
The cocaine was intended for European and Asian markets. On that occasion, four Nigerians and a Jamaican were arrested. Finally, 2023 opened with a seizure of 800 kg of cocaine on a ship off the coast of Dakar, Senegal, while on February 6, a Cameroonian was arrested at the international airport of Nosy Be, in northern Madagascar, carrying over 5 kg of hard drugs: 2.25 kg of heroin, 2.35 kg of amphetamine and one kg of methamphetamine. According to the customs, he hid the drugs in spare parts for cars concealed in his luggage. One could continue listing many other cases of confiscation. The route is always the same: Latin America-Europe (in some cases Asia), with African territories serving as a logistics base for sorting (or in some cases even for partial consumption).In the Latin American networks, the drug trade is organized by a powerful worldwide network of criminal gangs.
The Latin American ones are the most influential and feared, from the Mexican to the Bolivian cartels which are in vogue today. The CPC (First Command of the Capital), led by Marcos Camacho, known as Marcola, is an umbrella that brings together the Latin American families who control drug trafficking. Its headquarters is located in the Bolivian region of Santa Cruz de la Sierra. Here, as well as in Brazil's richest state, São Paulo, Bolivians and Brazilians invest undisturbed in precious stones, medical clinics, restaurants and so forth. But the real business is in the drugs that come from Peru and Colombia, and which, in addition to the cocaine produced locally in Bolivia, is sold, usually via Brazil and then Africa, in Europe. 40% of these substances are controlled by the Calabrian 'Ndrangheta, the most powerful Italian mafia organization.
The African allies
These criminal networks also have their connections in Africa. Marcola's friend and historical ally, the Brazilian Gilberto Aparecido dos Santos, known as Fuminho, was arrested in 2020, after almost twenty years on the run, in Mozambique and extradited to Brazil. There are also local drug barons. In Angola, for example, Waldir Carlos was recently sentenced to 4 years in prison by the Luanda court, while in Mozambique, Mohamed Bashir Sulemane, one of the richest and most influential local traders of Asian origin, was on the American blacklist for years because he is considered one of the most influential drug traffickers on the African continent, with very close relations with the former Mozambican president Armando Guebuza. In West Africa, Mexican cocaine cartels – such as Sinaloa, Jalisco Nueva Generación and Zetas – have links in Nigeria, Ghana, Mali, and Senegal, intertwining with jihadist groups that control important parts of the Sahel.
The complicity of the military and political authorities of a small country like Guinea-Bissau, for years considered a veritable narco-state, has proved to be decisive in facilitating the trade in drugs from Latin America to Europe. The physical presence of these large Latin American cartels in Africa, however, is generally discreet, unlike what happens in their countries of origin. A few strategic and influential allies, such as – in the case of the Sinaloa cartel – Braima Seidi Ba in Guinea-Bissau, hold passports from their countries and Portugal. In South Africa, the link between government authorities and criminal cartels dedicated to drug trafficking is ancient. In 1999, 4 years after the end of apartheid, the UNODC had drawn up a report with serious accusations against the new South African government, while today new investigations have proven the link between Latin American drug cartels and powerful police officers, such as the ex-Commander Jackie Selebi, a frequent visitor to the family of former President Jacob Zuma. The latter would also appear to have had contact, in the province of the Western Cape, with Muhammad Asif Hafeez, known as 'The Sultan', a native of Pakistan and recently arrested in England.
For the Interpol office in the African Union, faced with such complex relationships of the highest level and consolidated over time, the role of the international authorities involved in the fight against trafficking is difficult. Interpol opened its office at the AU in 2016 and in June 2022, a meeting was held in Cotonou (Benin) between Interpol and the authorities of various African countries, on the subject of international criminal trafficking. In that context, the general secretary of Interpol, Jürgen Stock, presented the program – financed by the United Kingdom – to fight cybercrime in Africa. This is also a very important program in the fight against drug trafficking, given that the trading of these substances on the dark web is also on the rise in Africa. (L.B.) – (Photo: Pixabay)