Africa. "Our social commitment".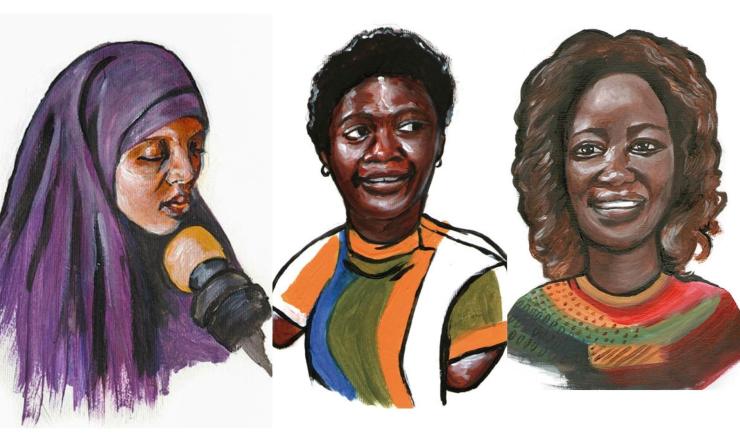 Three young African women from different backgrounds recount the story of their social commitment as they become a reference point for many African women.
The personal and professional future of Kamil Ahmed, born in Somalia in 1999, depends on the government of Kenya, which announced the closure by 2022 of the refugee camps of Kakuma and Dadaab, where about 420,000 people, mainly Somalis, live.
Dadaab is one of the oldest refugee camps on the continent and has long been the largest in the world. There is a great deal of excitement among the people, some are thinking of returning to Somalia while others are preparing to emigrate to a neighbouring country.
Among the thousands of people facing this dilemma is Ahmed, who arrived there with her mother in 2008 after her father was killed in Mogadishu. "I lost my father, I had to leave my village and my school", recalls Ahmed, who adds that she, however, had managed to find "peace and hope in Dadaab".
From the age of nine, all that Kamil heard while listening to the modulated frequency of the small radios that accompanied countless families to Dadaab, was just a strange and foreign soundtrack. That sequence of words and music was Star FM Radio Gargaar, the only radio station in the camp.
Day by day, those words and music began to bring the girl closer to the world of radio. When Ahmed finished primary school, she enrolled "in a year-long youth program offered by the Norwegian Refugee Council". There she learned the basics of journalism. And soon after she began her connection with Radio Gargaar, which in Somali means 'Help'. The station programs, in which service information predominates, did justice to the name they broadcast every day. A container became an unattractive but effective study. It is from there that Ahmed addresses an audience that now exceeds 200,000 potential listeners every day.
The young Somali woman has long been the only woman on Radio Gargaar, which at first was not well received by the people in the refugee camp. They said she should leave the radio and get married. In this regard, the Somali presenter said: "I am proud of my work, for which many people respect me. But there are other people who don't like what I do. They put a lot of pressure on me, but when they insist on getting married, I laugh and pay them no attention".
Her voice, together with those of her colleagues at the station, seems to be essential in the coming months, in which the future of Dadaab is at stake and, above all, that of the thousands of people who live there. "The imminent closure of the camp – she said – has affected everything, our business, our livelihood…. The radio is important to keep an eye on the changing political decisions of the Kenyan government". However, she seems to have clear ideas. She is considering and wants a future life in Somalia. She wants to study and practice journalism in her homeland, despite the dangers that her colleagues run in the country. "I know how dangerous it is for someone like me to go back and be a journalist in my country. But my future will be Somalia". The present, here and now, is called the Star FM Radio Gargaar.
 Mércia Viriato: "I am not different"
The ninth legislature began in Mozambique on 13 January 2020 and the 250 elected deputies took possession of their seats. Everything happened as usual except for a young deputy: Mércia Viriato Licá. At just 24, this young law graduate from Maputo's Pedagogical University has become the youngest parliamentarian in the country's history.
Her attention was not focused only on her because of her young age but also because of a congenital disability; she was born with no arms. She writes, uses the computer, or turns on the light in the room at home with her feet. Despite everything, she insists on acknowledging that she does not feel different "and much less special".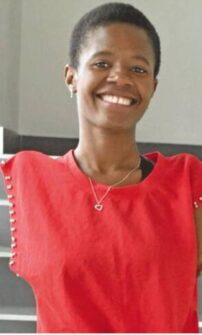 The strength she has shown throughout her life has made her a point of reference for people who, like her, suffer from a physical disability. When Mércia Viriato took office, Mozambican activist Benilde Mourana said she hoped she "would not be just another MP, but would bring the real concerns of people with disabilities to Parliament and that this wave of inclusion would spread in other key sectors in the area of ​​disability".
For now, the MP has already stated that her priority for the legislature will be education. After collecting the minutes of her seat, the Mozambican woman expressed the hope that she may contribute to the development of the country "through education. I want to encourage young people to never stop studying because education is the way to real life".
The day after the parliament opened, a local newspaper entitled: "Mércia, de menina renegada a deputada" (Mércia, from rebellious girl to parliamentarian) and a photo of eight-year-old Mércia sitting on the school floor, together with her companions, bending over some half-written pages and clutching a blue pen with the tip of her right foot.
In 2003, when her mother went to enrol her in elementary school, the leaders of the centre advised her to find a special school. But her mother did not have the money to enrol her in a special school and so after much insistence, she was accepted into the school like any other pupil. She began to write with her foot. Years later, in an interview, she acknowledged that "Even now, I still wonder why I should have gone to a special school". Abandoned by her father when she was just a child, Mércia grew up under the exclusive tutelage of her mother, with whom she still lives today.
However, as she herself points out, she wanted every difficulty to become an opportunity and an obstacle to be overcome.
If there is anything that explains her presence in the House of Representatives, it is her tenacity, which led her to address the country's president, Filipe Nyusi. Through social media, she asked him to do everything possible to facilitate living conditions and access to education for people with disabilities. President Nyusi has invited her to carry on her battles in defence of the disabled through politics. Mércia took up the challenge; she stood as a candidate for the province of Téte and succeeded in reaching her goal.
 Ndeye, dancing to the rhythm of the yembé
Imagine people in a circle looking into each other's eyes and gesticulating as they follow the frantic pace of their yembé, an African percussion instrument that has its origins in the Mandingo empire. Tradition has it that it was played by the numus, the blacksmiths, who were attributed extraordinary powers and who participated in the initiation ceremonies into adulthood.
Often, one of the drummers would stand out from the others by playing a solo with which he challenged the others. Such solos are a display of power and endurance.
Ndeye Cissé, born in Senegal, began to play the yembé professionally at the age of 18. "There are men who feel intimidated and embarrassed when they see a woman playing the yembé; I understand them because this instrument is always linked to male strength. After all, they feel inferior when they see a woman who sounds as good as they do", explains Ndeye.
She started playing the yembé at the age of 8, supported by the figure of her brother who had never seen a woman play that instrument like any of the musicians. The male environment marked her childhood, in which in addition to watching her brother making music she also joined the fans of a football team in the Las Palmas de Dakar district, becoming the only girl to be considered the best fan of the team. "In the beginning, we had to animate our fans during matches, but when we saw that it could be a job, we started a professional music group, and that's how Djembe Rythme was born".
Her debut on international tours was accompanying the Senegalese football team (at the World Cup in South Korea and Japan).
Later she was part of the musicians who accompanied Youssou n'Dour, a popular singer and composer of mbalax music, in which traditional and European instruments are mixed.
A feminist without having to proclaim it, Cissé is convinced that "at some point, there will be a change and women and men will share the zone of success". Meanwhile, she is proud to belong to Jigeen Ñi, the first Senegalese group made up entirely of women. The messages of their songs have already become a reference point in the national awareness of gender equality.
Cissé is an example for young women who shyly and fearfully approach a yembé or a sabar. For this, she decided to live in her own country with her mother, and to give percussion lessons to a group of students with whom she hopes that, little by little, it will become normal for a woman "to have a love and passion for these instruments". She advises them to "believe in themselves and be aware that it is a job that involves sacrifice", without losing the smile and the innate rhythm that spreads with their yembé. (Open Drawings: Tina Ramos Ekongo.
Carla Fibla García-Sala  – Javier Fariñas Martín