Mauritius. An African success story.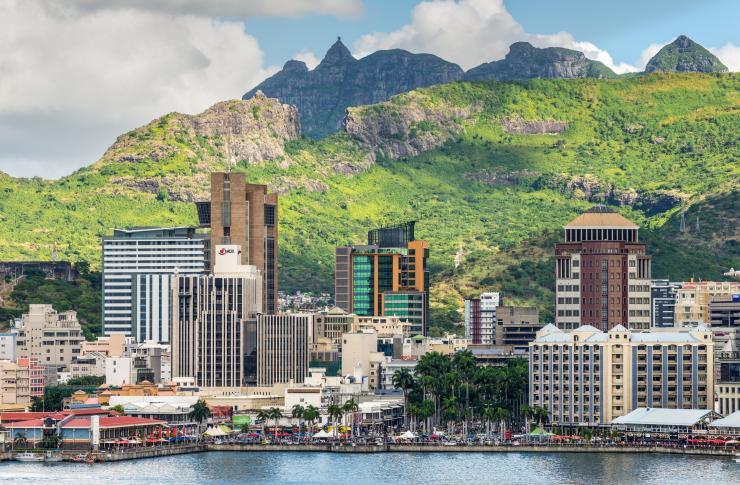 For many African countries, political independence from the colonial powers has not brought the hoped-for economic development. One positive exception is the island nation of Mauritius. What are the reasons for its success?
Mauritius is a volcanic island of over 2000 km² in the Pacific Ocean, about 2000 km from the African coast. It is surrounded by sandy beaches and the largest coral reef in the world, enjoys a tropical climate and offers a unique biodiversity.
About 48% of the approximately 1.3 million inhabitants are Hindu, 32% Christian and 17% Muslim. English and French are official languages, the population speaks mainly Morisyen, a creole language based on French.
The first Europeans to discover Mauritius were the Portuguese in 1508, who took little interest in these islands. From 1598 on Dutch ships used the island as a stop-over on the way to India. They named the island after Prince Moritz of Orange. Only in 1638 began a slow colonization of Mauritius. The export of ebony and the cultivation of sugar cane, which is still the most important export product, led to the clearing of the tropical virgin forest, of which only 2% remains. More and more slaves were imported from Madagascar and East Africa for the plantation work.
When the Netherlands left the island in 1710, Mauritius first became a "pirate island" before the French took it over and renamed it 'Isle de France'. They developed the country, expanded the sugar industry and invested cultivation of spices.
During the turmoil of the French Revolution, the island became a base for pirates for the second time. To stop their raids, the British conquered Mauritius in 1810 and made it a crown colony, but without changing the social institutions and culture of the inhabitants. Sugar cultivation became a monoculture on 90% of the arable land.
When slavery was officially abolished in 1835, plantation owners received a compensation of two million pounds sterling. Instead of slaves, Indian contract laborers, also called coolies, were hired, but most of them remained in the country after their contracts expired. Hindu and Muslim workers soon reached 50% of the population, which over the years led to violent conflict between the Hindu working class and the Franco-Mauritian upper class.
The introduction of universal suffrage in 1959 gave the Hindu-Muslim coalition party a majority in parliament, which then voted for the country's independence in 1968. Before independence, the British separated the Chagos Archipelago, 1200 km away, and leased the island of Diego Garcia to the United States for a military base. Since then, the government has unsuccessfully demanded the return of the archipelago. Mauritius separated from the Commonwealth in 1992 with a new constitution and became a parliamentary republic.
Mauritius has good political and economic relations with the EU and many African countries, especially South Africa. After several crises, Mauritius managed an economic recovery. This was helped by a guarantee from the EU to buy three-quarters of the annual production of sugar at a good price. The government encouraged diversification of the economy through the development of a textile and tourism industry.
The government has created also conditions that make it attractive to international investors:
It offers: A functioning democracy guarantees political stability and internal security and makes Mauritius the safest country in Africa. Investors can rely on a well-developed, growing financial sector for financial transactions. Low taxes and uncomplicated producers' to acquire land make investments profitable. A lavish tropical nature, endless sand beaches and mild weather all year round attract tourists.
Rapid development has made Mauritius the richest country in Africa, with an average wealth of $37,500 per inhabitant and with the highest number of millionaires. The economic development benefited mainly the upper class, but it also helped to reduce poverty of the rest of the population and to finance a well-developed social security system. (Open Photo: Port Louis. 123rf)
Wolfgang Schonecke