Bolivia. Socavon, Life is a Joyful Dance.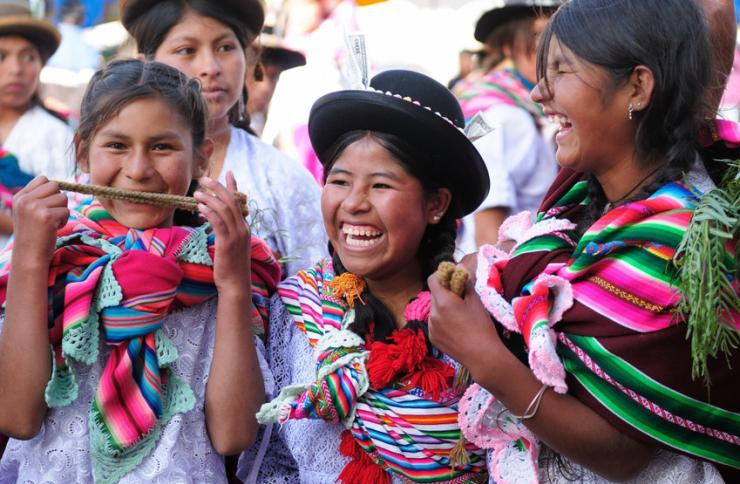 The pilgrimage to the shrine of the Virgin of Socavon, in Bolivia, is a process of conversion and a desire for intimacy with God.
The celebration of the Oruro Carnival is an expression of popular religiosity that intertwines Christian feeling with that of all the Andean people. It expresses the relationship of closeness and respect towards the Virgin Mary, in addition to the invocations in the rites of Candelaria and the Virgin of Socavon linked to the mining area.
On Carnival Saturday, the pilgrimage-dance takes place to the Sanctuary of Socavon. Thousands of dancers dance eighteen different types of dances for five kilometres, making their lives a dance offered with great joy. One dance that symbolizes this Andean festival is called Morenada.
In it the search for the freedom of human beings is expressed. This dance dates back to the time when Africans who were taken into slavery in the mines of Bolivia fled to the tropics and integrated into local indigenous cultures in search of freedom.
The Central Morenada, created by the Cocani community, is one of the reference points of this dance and is so called because whoever started it was connected to the production and trade of cocaine leaves, a ritual element that invites dialogue.
This population, the Cocani in fact, is characterized by making its pilgrimage singing and dancing until it reaches 'the feet of Mamita Candila', the loving way of calling the Virgin. Their songs communicate messages of resistance and hope to the participants in the carnival because the words raise questions of life and the rhythmic rhythm is appreciated by both locals and strangers who participate in the pilgrimage. In this sense, there is the song 'Sombrerito', composed by Christian Lopez Alarcon and interpreted by the Doble Via group. The verse 'I dance to my Madonnina in the Carnival … to my Mamita Candila, with Faith and Devotion, I make my pilgrimage without fatigue nor pain until Socavon … ', evokes the traditional sense of pilgrimage seen as a duty and with a profound sense of suffering, as appears in the refrain of another popular song, by an anonymous author, which is often heard in the Sanctuary: 'At your feet, Mother, an unhappy burden of anguish and a thousand pains are laid'.
At the same time, this verse of the song 'Sombrerito' indicates the pilgrimage as an experience in which each pilgrim becomes aware of his or her promises and sets out on a journey overcoming fatigue and pain. With the rhythm and dance, she expresses her faith and devotion to the maternal and close image of Mary, 'my Mamita Candila' with whom she dances familiarly, evoking both an interior and material pilgrimage.
This vision of the pilgrimage is in tune with the document on pilgrimages made in the great Jubilee of the year 2000, where it said that a pilgrimage is a process of conversion, a desire for intimacy with God and a confident plea for material needs to be met.
Each dancer, in fact, while dancing calls to mind their own life, welcoming lights and shadows in the hope of being able to transform and heal negative situations and so live in harmony and equilibrium. (Open Photo: ©rchphoto/123RF.COM)
Tania Ávila Meneses