The Growth of Fashion in Africa.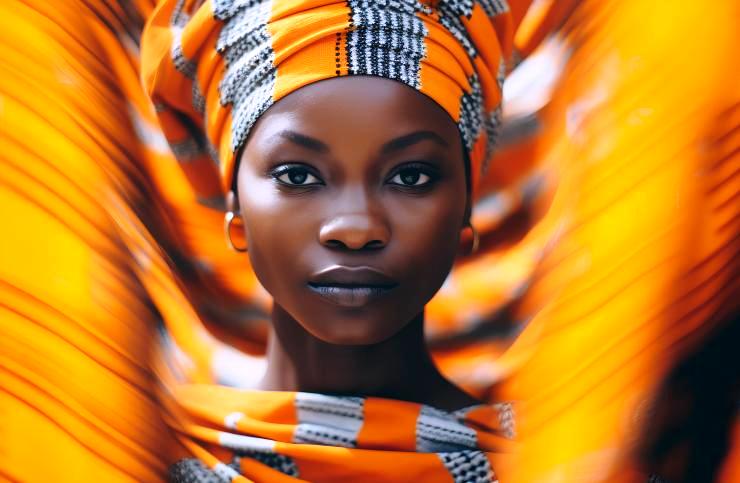 If there is a sector in Africa that is giving great satisfaction not only to the economy (and therefore to the GDP) but to the image of a continent rich in creativity, this is the fashion sector.
An industry, that of fashion, a source of pride for those who work in it, for Africans on the continent and for those in the diaspora who see shapes, colours and designs that represent them increasingly present on catwalks and ready-to-wear collections.From some recent analyses, there are two countries, above all, in which the fashion industry is booming: Egypt and Nigeria. These two countries are expected to collectively generate $2.5 billion in revenue from the sector by the end of 2023. But that is not all.
The market volume will increase in Nigeria at the rate of 10.03% per year while in Egypt the annual growth rate is estimated at 16.40%.
Obviously, buyers will generate these flows. Buyers are increasing significant and are facilitated today by e-commerce and social media. Especially Tik Tok, very popular among Generation Z with its Y2K trend and the influence of Afrobeat artists and music. It is obvious that Africa and its young people have not been immune to it.
Long wave
In Nigeria, the boom began in the 80s and 90s of the last century thanks to local designers who had introduced ready-to-wear clothes. According to a PwC report, in 1991, the Nigerian fashion industry was valued at $50 million (it was $10 million just six years earlier). In 2015 the country represented 15% of the fashion market in sub-Saharan Africa, a market worth 31 billion dollars, and the sector has continued to grow (17% between 2010 and 2019).
Egypt, for its part – as Ventures Africa highlights – has always benefited from the strength of its cotton industry. There were years, like 2009 and 2010, when the country had contracts with 23 countries to export cotton worth $140 million. The creation of many textile factories has strengthened its industrial strength and the country is continuing to focus on this with the creation of the largest textile factory in the world, destined to produce 30 tons of fabric per day.
In January 2022, the country's fashion exports had also increased by 54% compared to the previous year and Egypt will continue to focus on this sector as it has already demonstrated with the first edition of the fashion week which was also an opportunity to present its main brands.
Meanwhile, although still new, Lagos Fashion Week has already become a consolidated event. It is above all, creativity that is allowing made-in-Africa fashion to emerge. It is due to its talents, its stylists, and its models. It is therefore obligatory to mention some brands that are making the history of African fashion.
Brands and designers
Let's start with the Nigerians: Fruche, founded by Frank Aghuno, a self-taught designer who had his stylist mother as a mentor. Fruche is based on the desire to find the perfect balance between the old, the new and the future, and revolves around cultural and artisan tailoring techniques. Equally Nigerian is ÀSÒ, founded by designer and beauty curator Aanuoluwa Ajide-Daniels. The house defines itself as 'a documentation of futuristic creative exploration' and plays to undermine the conventional male and female representation in fashion. We then mention Tj who Tj operates from the perspective of trans-culturalism with an eye not only on the continent but also on Asia and Europe.
Other interesting contributions to African sartorial creation come from Mali, with Awa Meite, which bears the name of the director, stylist and actress who founded it and whose autumn/winter 2023 collection was presented at Portugal Fashion. This brand rhymes with sustainability and with a concept of Afro-minimalism that highlights the extraordinary works of local artisans.
And speaking of sustainability and ethical industry, we should remember the Kenyan KikoRomeo which has been producing original clothes since 1996. Certainly, in this case, as in the others, social media has helped to reach a much wider audience.
The rise of fashion in Africa, moreover, has been rewarding experimentation and 'classicism' of (and on) traditional fashion fabrics for years. As in Ghana, whose characteristic Kente has attracted the interest and imagination of stylists and which, on another front, has allowed characters such as Christie Brown and Ozwald Boateng to emerge.In Senegal, the names and creations of Selly Raby Kane and Algueye Dakar or the colourful Mokodu Fall, who simply defines himself as an 'artist', are well known. In Rwanda, there is Sonia Mugabo, whose staff is made up of 80% women. After all, it is to them that her creations go.
Finally – but obviously it doesn't end here – South Africa of which we must mention the BAM Collective which explores luxury fashion and the now well-known young designer Thebe Magugu, who today collaborates with Dior. (Open Photo: 123rf)
Antonella Sinopoli