Music. Vietnam. Between Tradition, Pop and Rap.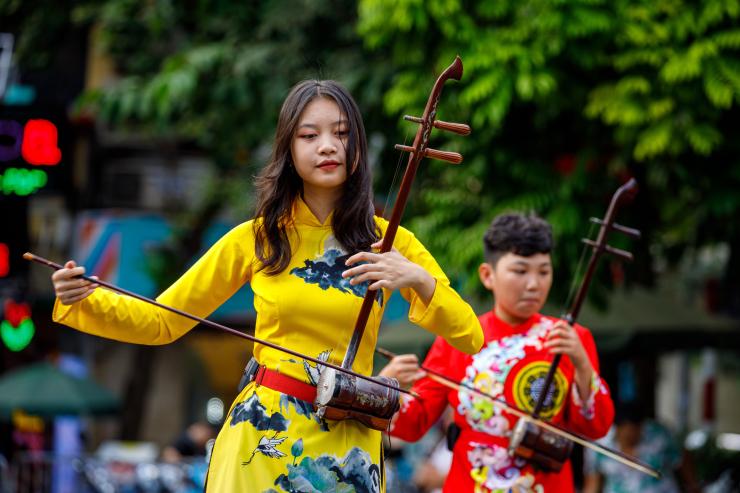 For the Vietnamese people, music has always been of great importance. A tradition with millennia of history behind it and a present perfectly integrated into international pop trends.
As a land of conquest for the great planetary pop stars – Ed Sheeran, Taylor Swift, Ariana Grande and the most popular Korean BTS –  but also fertile ground on which many talented local artists spring up.
If the traditional genre nha nhac (music for court ceremonies dating from the nineteenth century) has been declared a World Heritage Patrimony by UNESCO, the tragic conflict of the sixties and seventies of the last century indirectly favoured an expressive cosmopolitanism, bringing many Vietnamese artists closer to the themes of Anglo-American
pacifist folk protesters.
With the end of the conflict, the progressive Westernization of the country then favoured the growth and diffusion of an authentically Vietnamese pop hypothesis and the rise of artists such as Mihn Tuyet and the singer-songwriter My Tam who were able to blend local stylistic elements with the modernity of internationally popular pop.
My Tam is still a very popular star today, but alongside her, there are many artists worthy of mention. Like Son Tung TP, a twenty-nine-year-old from Thai Bihn with a past as a teen idol and a style halfway between neo rhythm 'n' blues and dance.
There is rapper Suboi (one of the few artists who can boast some popularity abroad), a hip-hop band Da Lab, a Hanoi pop singer-songwriter Vu Cat Tuong and fellow countryman Dong Nhi who also collaborated with planetary stars the likes of will.i.am and the Black Eyed Peas; the Chillies are an indie-rock band, while artists like Soobin Hoang Son and Bich Phuong are more melodic and catchier.
Fortunately, today's Vietnam is very different from what was exported to the world by the tragic black-and-white reports of the last century and its natural landscapes, still largely untouched, are today more than ever a formidable tourist attraction. But the music of the new Vietnam also springs up on the splendid beaches of Da Nang; from here come, for example, Du Phuc and Den Vau, further significant voices of a country that seems to have left behind the tragedies of the past and that lives its present in a continuous and very rapid transformation; but which brings with it an infinite number of new challenges – social, humanitarian and cultural. (Photo: Traditional Street music in the streets of Hanoi. ©hecke/123RF.com)
 Franz Coriasco