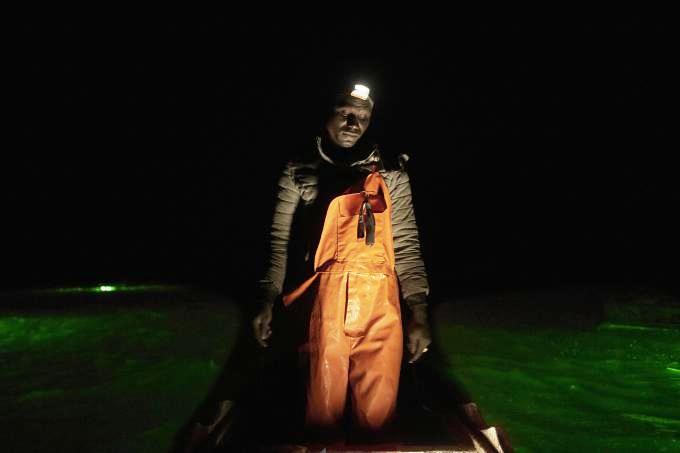 Madj lights the flashlight on his head, tying hooks and lures to the ends of the lines. The space on board is narrow and the two fishermen work seated, to avoid dangerous jolts to the hull.
Crouching on the opposite sides of the dugout, one facing the other, the two men look at each other in silence and, in a dance of ancient gestures, they slide lines tightly between their fingers into the water. Rhythmically they raise and lower first one arm and then the other, making the lines crawl along the edges of the hull, which follows their swing. Wide grooves left on the sides of the boat testify to countless fishing trips like tonight's.
Despite the handfuls of sand thrown overboard, another technique for attracting predators from the deep sea, the first abundant hour of fishing brings no prey. "Sometimes you don't have time to throw the sand as they begin to bite. Others, on the other hand, spend hours without taking anything. Fishing is like that".
Madj, to keep up the morale of the crew, sings songs in Wolof. Bouba nervously lights yet another cigarette, starting to heat the embers for coffee on an improvised stove, made from an old, moped tyre and a perforated aluminium plate. The breeze blows crackling sparks of coal onto the surface of the sea. Even on the pirogues around, the fires of the improvised grills gradually light up.
Suddenly the young captain stands up, dangerously rocking the boat. In the rush to haul it aboard, the first squid escapes his grasp, splashing ink in his face. But it is only the prelude to an hour of abundant fishing, with several large squid (and a cuttlefish) caught one after the other.
The same good luck that night was also enjoyed by the other boats anchored in this bay, with young fishermen (some alone, others in pairs) who celebrate by sharing coffee, cigarettes, and laughter with the nearby pirogues. "It seems like a lucky evening!", Madj rejoices, without stopping to bring to the surface fish which, before being thrown at his feet, twist on the hooks spraying black slime.
Tomorrow is another day
The night is far gone, and the rising wind penetrates under the numerous layers of clothes of the two fishermen, who pull the wax suits out of their backpacks. Madj tries to rest, perched in the bow on the wet top of the anchor, while his companion alternates teapots of coffee with toasted cuttlefish tentacles. On the horizon, moved by the rolling waves, persistent cold lights burst into the dark: "Those are the foreign fishing boats", comments Madj, who is unable to sleep.
"We must be on our guard because if they arrive at full speed, they do not see us from up there and risk ramming us, as has already happened to many other boats". Fortunately, the large boats flying European and Asian flags remain offshore tonight, without disturbing the fishing for the pirogues, which continues, with unusual success, until dawn.
Upon returning to the port, Madj looks at the sun that returns to peep out behind the buildings of Dakar, puffing wearily and pulling on a woollen hat. The tense features of his face break into a smile only when his bare feet and the bucket full of squid touch the fresh sand of the shore. All that remains for this exhausted man is to entrust the catch to the sellers of the Soumbédioune market, return home, wash, smoke, and rest for a few hours, before the next trip to sea. (Photos: Michele Cattani)
Andrea de Georgio