Indigenous Theology. The Time Has Come to Be Bold.
Indigenous peoples speak through rituals that reveal the life that walks with God. It's a new and harmonious relationship with nature and with others. And it's a uniquely opportune moment. We met Father Eleazar Lopez Hernandez, a Mexican, who has become an expert in indigenous theology.
How did indigenous theology come about?
Native peoples had a theology that far preceded the arrival of Christian missionaries. Our peoples always had their own ways of relating with God, using forms and gestures that are the fruit of their own cultural expression. When the Christian message arrived, the indigenous peoples made an effort to establish a dialogue with the new Message. The first missionaries' approach, however, was not rooted in dialogue. They forced the indigenous peoples to set aside their religious patterns and theology. For a long time, indigenous theology found no place within the Church, surviving only through popular religiosity, encouraging the emergence of a 'resistance theology', which has long remained in the shadows of the Church.
In fact, for a long time, there were no indigenous priests or other religious figures. We found ourselves confronting a colonial Church, a Church completely extraneous from our context, and all the liturgical, theological, catechetical elements were imported from outside. The first indigenous priests, who entered religious life had to adopt these imported schemes; they had to 'de-indigenize' themselves – that is, they had to forego their original identity to take on a new imported one. However, for the past 50 years, a new indigenous generation has s entered religious life through seminaries. And this process gradually allowed for a re-discovery of the indigenous elements, erecting a bridge to introduce the indigenous element to the Church instead of the Word of the Church being brought to the indigenous people. Thus, the new generation began to redeem the original indigenous concept of the "nican mopohua" theology, which revolves around the Virgen de Guadalupe, discovering that the first brothers who entered the Church developed an important theological synthesis.
The Virgin of Guadalupe is not just 'the Virgin Mary who appears to a Native – She could have chosen to appear before anyone. Rather, the fact that She appeared to a Native signified She assumed an indigenous face, indigenous language and indigenous symbols. And above all, it signifies her assuming an indigenous concept. She appeared on Tepeyac, rich in an ancient tradition of beliefs for the indigenous people. And this altered the model of the Church. After all, if the Virgin of Guadalupe has unsettled the Church to the point of being accepted, it shows that the Native element is already there, it's already present, through the Virgin, in the very heart of the Church. Hence the idea of ​​an indigenous theology. A school of thought that does not contradict Jesus with respect to the great categories of God's name, or the way of understanding the community's vision of itself in the future. It coincides perfectly with the Christian idea.
What are the main elements of indigenous theology?
I would suggest there are two elements. The first is that this theology does not re-elaborate God; rather, the way to live with God. Cardinal Joseph Ratzinger (at the time, Prefect for the Doctrine of the Faith) summoned Gerardo Flores, one of the bishops who accompanied the indigenous peoples of Guatemala to speak about this. Flores concluded by saying that, "indigenous peoples are not as good at talking about God, as they are capable of speaking with God; because, they are peoples who have a profound experience of God.
They speak with God and therefore also about God, without the pretense of defining God, with the purpose of communicating this profound experience and involving others in this quest. They speak about it with life, through the rituals revealing the life that walks alongside God". It is not a theology written in books. It is a theology of life.
The second characteristic is to be holistic. Indigenous peoples do establish marked differences between God, human beings and nature. God is present in everything. God is in life. I also observe this in the experience of the Jewish people, who express their theology through life, narrating how they came out of Egypt and the path they took, meeting God, who then pointed their path to freedom. Similarly, Jesus asks us to walk with him, to follow him. There we experience life, we experience God. Therefore, this theology does not separate, it is holistic in perspective because it includes everything.
What is indigenous theology's contribution to the Universal Church?
Indigenous peoples, from both a theological point of view and many other things, have words and affirmations that allow us to overcome the global crisis we are experiencing. The Indigenous peoples' word is not an ethnic concept; rather, it's a human one that calls those who are human. When I speak of my identity as a Zapotec, I say 'vinizà', which means "born from the cloud, from the sky, and from the rain", because we feel we are children from the offspring of heaven and earth.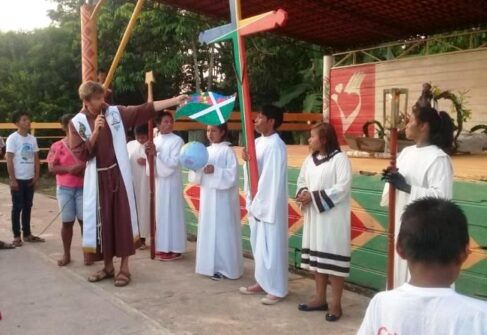 And who might the others be? They too are the same rather than an ethnic identity that would separate me from others who are not Zapotec. I speak of a human identity and therefore I can suggest that in this society, which is destroying what is human, we can resume being human again; and it is human reality that makes us equal. We indigenous people were told that we were not human, or that we were sub-human. Instead, we are fully human. Cultures may give us some differences, but we are not superior to one another. We are brothers and this is the suggestion from the indigenous peoples.
And we are brothers because we all come from God, we are sons and daughters of God, but we are also sons of the Earth, we are sons of Mother Earth. The Earth expresses the presence of God, who grants us life. That's why we need a harmonious relationship with God.
What about the Pan-Amazonian Synod in which you participated? And what about the Pope's post-Synodal Exhortation…?
I believe that this is "kairos", a uniquely opportune moment, capable of ferrying the Church from a colonial, Eurocentric outlook, to a more inclusive and embodied one, marked by a legitimate diversity. This shift is not easy; because, we are still afraid and we saw it in the post-synodic document: celibacy, ministries, liturgies.
I believe that the synod has opened new paths for every one, with new positions vis-à-vis the world, nature, others and the numerous existing problems.The gospel of Jesus does not close, nor does it impose cultures or destroy them. We live in a unique historical era. The current moment is hopeful. I am very hopeful, despite many fears, even legitimate ones. It is time to dare and effect change in order to live and experience for ourselves the word of Jesus, who came such that we might have life, and life in abundance (Jn 10:10).
Filippo Ivardi Ganapini