In Bolivia, Mother Earth Defense Is In Women's Hands.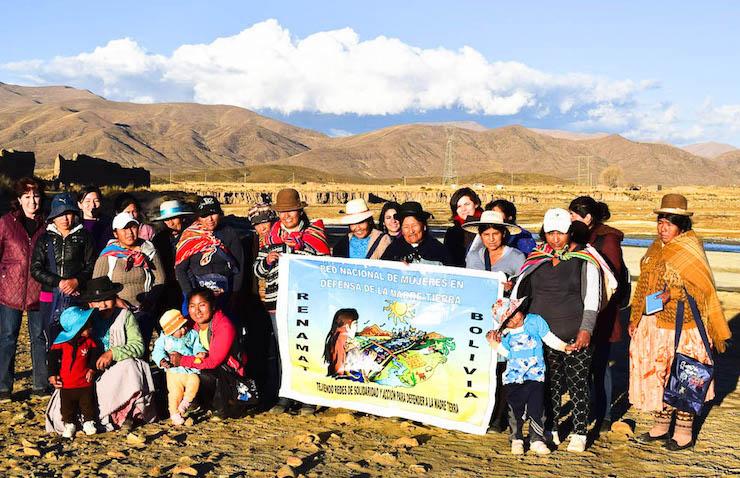 In Oruro, few months ago, there took place an exchange of knowledge among women from ten communities on the defense of their rights: it was an initiative of the Itinerant School of Mother Earth's Defenders promoted by RENAMAT and the CASA Collective of Bolivia, and after a tour in the Huanuni mining center and in the Realenga community.
Oruro (Hispanicized spelling) or Uru Uru is a city in Bolivia , about halfway between La Paz and Sucre at approximately 3,709 meters above sea level, with, in 2012, a population of 264,683. It is Bolivia's fifth-largest city by population, after Santa Cruz, El Alto, La Paz, and Cochabamba. Capital of the department of Oruro and the seat of the Catholic Diocese, Oruro has been subject to cycles of boom and bust
owing to its dependence on the mining industry of silver,
copper tin, and tungsten.
Local Women, therefore, when addressing the mining issues, knew very well what they were talking about. Their exchange started from three different contexts: where women are resisting the entry of mining activities, where mining activity is present since colonial times and now have a transnational operating system, and where mining companies announce the closure of their operations. Going along the river that connects the Huanuni mining company with the Realenga community and the communities downstream, these women could see how mines affect soil, water, air, biodiversity; through their exchange of knowledge and observations, they came to the conclusion that, in each of these mining contexts, there are very strong and differentiated impacts on women, which put at risk the integrity of their lives.
"In our community – said Dona Jimena of the Realenga community – we do not have mining but the river crossing through the community is contaminated with the mining waste from Huanuni. We have already lost our freshwater wells because they are contaminated. Polluted water reaches the community and affects our soils. For us women this is a very big burden; we have to go a long way after the hill in search of water, our children are exposed to diseases, we have had to move our houses to the other side of the river, our work in the field sees the production diminishing. The good thing is that in the community we are well organized, we'll continue to struggle, and knowing our rights we will defend our lives with more strength than ever."
As a conclusion of the exchange, they analyzed the rights established in national laws and in international conventions, that guarantee the fundamental right to water, the rights of mother earth and the rights of women to a life free of violence. This initiative was neither isolated nor occasional. To guarantee and defend the rural people's rights, an Observatory of extractive industries and collective rights has been created. Its purpose is to generate a space in Bolivia for monitoring conflicts between extractive activities and indigenous peasant communities, promoting the exchange of information and experiences about their collective rights, their territories, and strengthening a communal strategy that will put into debate extractivism from the native indigenous communities vision of development. In this context Casa Collective (Collective of Coordination of Socio-Environmental Actions) and the National Network of Women in Defense of Mother Earth were born, which in Oruro has one of its operational centers.
As pope Francis said in his encyclical Laudato sì n°48: "The human environment and the natural environment deteriorate together; we cannot adequately combat environmental degradation unless we attend to causes related to human and social degradation. In fact, the deterioration of the environment and of society affects the most vulnerable people on the planet. Water pollution particularly affects the poor who cannot buy bottled water."
John Paul Pezzi, mccj
VIVAT International NGO
with consultative special status at UN