Bolivia. To Be A Church along the River.
After the Special Synod for the Pan-Amazon region, and the Post-Synod Exhortation "Querida Amazonia", work now reaches the heart of the pastoral impetus. Monsignor Eugenio Coter, Bishop of the Pando diocese in the heart of the Bolivian Amazon talked with us about it.
"As for the next few months, we are already thinking about how to put the Synod's proposals into practice, and by that I am addressing lay people, women, priests and permanent deacons such that they might become more directly responsible in the building of communities. Moreover, we would like to spread the experiences gathered from the Synod throughout our communities", said bishop Eugenio Coter from the Diocese of Pando in Bolivia.
Latin America and the Amazon have certainly become an important part of Mons. Coter's experience, given he has lived there for almost 30 years. Before in the Archdiocese of Cochabamba and then on February 2, 2013, he was elected Titular Bishop of Tibiuca and Vicar Apostolic of Pando. "I have been living in the Amazon for over seven years, in the deepest areas of Bolivia's territory, bordering Peru.
The Amazon gets in your blood because you meet people who live uncomplicated lives and in touch with nature. Human relationships are much more essential," he says.
There are about 400 communities spread over a 111,000 square km area with 11 priests, 11 religious people, three seminarians and only six parishes where 70 thousand people live. "In this vast territory you rely on water courses to get around: the main course is the Rio Madre de Dios River. Bishop Coter adds: "I go to visit them; usually twice a year I travel by boat along the rivers. A catechist and a nun, who diligently look after the communities, come with me. It's a small team in a 15-meter boat, built like a floating camper, loaded with food, basic necessities and above all drinking water. "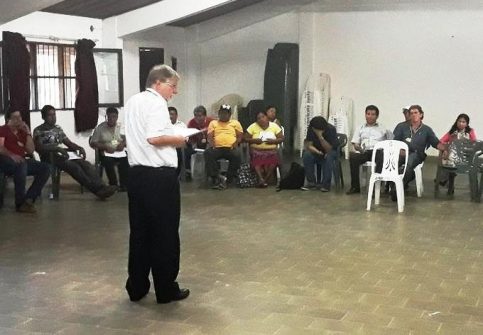 The communities look forward to the arrival of their bishop; it's both a festive occasion and the opportunity to communicate and relate. "We arrive early in the morning and then in the evening we stop by another community. We listen to people's problems, we offer confession, we meet catechists, and educators. Meanwhile, the nun visits various families, and in the evening, when farmers return from their plots back to the village, we celebrate mass and have dinner. And then, depending on the weather conditions, we go back to the boat and resume our journey. Sometimes we sail at night and stop on the banks, tying the boat to a tree on the shore.
On one occasion, the nun, who is a truly remarkable character, tied the rope to a tree, without realizing that a three-meter long crocodile happened to be resting right next to our boat."
Such are vignettes from a mission on the Images of a frontier mission, where people call on the bishop, asking him: "Come and pray with us. We are happy to see that some are interested. Because we are too few, and too far away. "
Some ethnic groups are more distant than others. Approximately 150 indigenous peoples, who live in voluntary isolation (PIIV), have chosen not to come into contact with modern lifestyles. And the Pan-Amazonian Ecclesial Network (REPAM) protects their rights in accordance with the "Declaration in defense of indigenous peoples in voluntary isolation". Monsignor Coter does not come into direct contact with these groups – even though the Taramona ethnic group has a presence in his region, it decided to self-isolate some 50 years ago. He does meet some of their relatives, who stayed in the village: "I met them about five years ago, and they asked me to visit the community where from which they came. They were indigenous to the Amazon, and when the Kecia and Aymara – the two largest Bolivian ethnic groups – arrived on their lands, the natives initially welcomed them, allowing them to build huts. When the new arrivals began to tear down hectares of forest, set fire to the land, and sow rice, the natives – who managed these lands differently – realized that they would have ended up dying, living in those conditions. And in a single night, they all left. They used their canoes to travel a river for about a week, stopping only when they had reached the thickest forest. "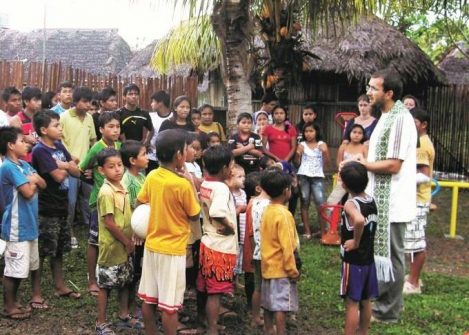 What does the Church do in such circumstances? "According to international laws that protect them – said the bishop – we cannot contact them, yet the prospecting of gold diggers, the activities of road builders, and the trafficking of timber continue. In this area, the government wanted to build a road that would end up crossing their territory, and the workers, who drove the bulldozers met with faced arrows whizzing by their ears, to force them away from the site. Their numbers are unknown, and attempts to make contact are also wrought with health risks, because we might be carriers of illnesses against which they have no defenses." And what does the Church do with respect to evangelization? "It is not easy for people in voluntary isolation, from legal and theological standpoints. Some family members might attempt making contact and possibly meet them. But they do so, always making sure not to open, albeit involuntarily, the path to those who want to get inside to exploit their lands. "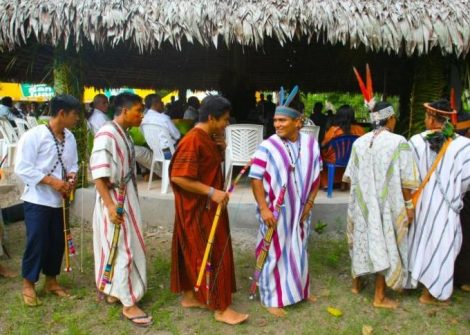 As for the Synod, Mons. Coter is keen about 'inculturation', noting: "In the Amazon, it is customary to incense the altar during the prayers of the faithful, but not at the beginning of the mass: for indigenous peoples, it is an expression of going up to heaven. It's important to give liturgy an Amazonian face, to present the liturgy within the language, the signs, the gestures, the mimicry and the local culture of each ethnic group ". And finally, Archbishop Coter believes that it is important to "create an ecclesial structure, a body to accompany the people of God in the Pan-Amazon region. A permanent organism to take charge of the entire post-synodal path. "(F.M.)