Africa and 'Gaudete et Exsultate'. In search for holiness.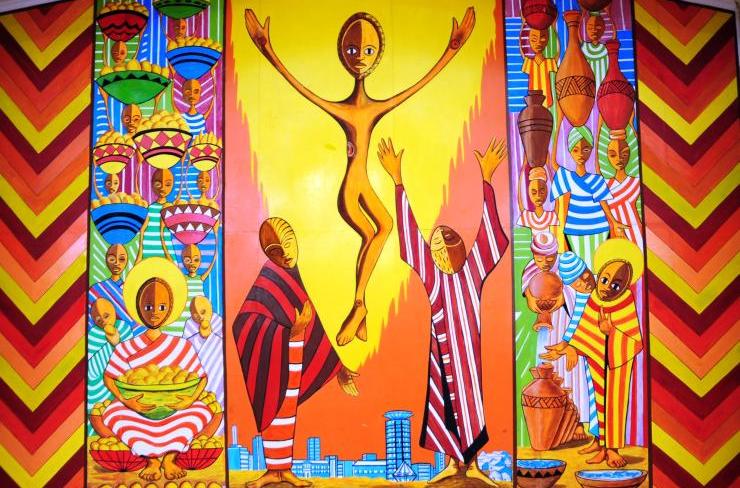 Pope Francis has written a new Apostolic Exhortation on "the call to holiness in Today's World".  The Latin title "Gaudete et Exsultate" which translated into English means "Rejoice and Be Glad." The words are taken from the Gospel of Matthew (5:12) at the end of the discourse on the Beatitudes. Father Laurenti Magesa, a Tanzanian theologian, looks at the Apostolic Exhortation and the influence can have on the African Church.
For a community – specifically the African Catholic Church – that is deeply steeped in a tradition with two concurrent and persistent conflicting theological, pastoral and structural strands, the reception of Pope Francis' recent Apostolic Exhortation, "Gaudete et Exsultate – On The Call to Holiness in Today's World" (GE), is predictable. On account of this inner conceptual and spiritual divergence in sub-Saharan Catholicism, there will be two equally contradictory reactions to the document. While some will feel somewhat betrayed and frustrated by the Pope's counsel, others will be elated and fortified by it.
To be more precise, over fifty years now since the end of Second Vatican Council in 1965, there is a sizeable component in the African Church that has remained largely hostile to any change in the teaching and attitude of the Church. The celebration of the liturgy may be taken as an example. Despite obvious theological developments produced and sanctioned by the Council in this respect, the predominant mentality of this section of the Church has remained pre-conciliar, old-school, and deeply suspicious of any significant effort towards inculturation. In a sense, many Christians in this camp have basically retained a Tridentine perspective of the Church in almost every major respect.  It is for them thoroughly a top-down, binary institution composed of teachers who command and listeners who obey.
Consequently, in this sector of the Church, Catholics tend to define their identity in terms of what they see as "moral purity" or "faith uncontaminated by the world."
They hold that their faith in Christ demands that as much as possible they avoid involvement in what they interpret as "secular" or "profane" affairs of politics or economics, for example, or most forms of non-religious social participation.
They hold onto a spirituality that consists of an exclusively vertical "Me-and-God" relationship of prayer and worship. In general, they are characterized by a rather rigid and inflexible view of doctrine. Their attitude towards difference in Christian expression is unsympathetic. They tend to collapse together the understanding of uniformity and unity in Christian piety and action.
But, as we have already noted, there are at the same time those Catholics in the African Church – also by no means negligible in number – who are open to newness and change in the Church's thinking and behaviour in the spirit of Vatican II. These are people who know, quite often only subconsciously or intuitively, that God "is not yet finished with us," and that he continues revealing himself through his Holy Spirit "in various and unexpected ways." They welcome different efforts towards structural reform of the Church; they like to have more voices of laypeople heard in the decision-making processes there; they are not threatened by the increasing "visibility" of women in leadership positions in Small Christian Communities and parish councils; and they enjoy prayer forms that are more attuned to and expressive of their own faith and life experiences. In short, these Catholics are more open to the inculturation process in the African Church.
While it is neither possible to provide very precise psychological and spiritual profiles of the two groups of people, nor to suggest exact mathematical approximations of each group, one thing can be stated with confidence: It is clearly observable that, in general, the younger generations of pastoral agents, that is, African priests and religious men and women aged forty years and below, constitute the resistant group. Most of these were trained in the 1980s and thereafter. Paradoxically, they share this view of the Church with the older generations of lay people catechized before Vatican II. If we may use some rather simplistic categorizing clichés here, the pastoral agents in this group can be described as "clericalist" and their lay counterparts "conservative."
Equally paradoxically, the older generations of pastoral agents, priests and religious who received their formation during and shortly after the Council, roughly up to the mid-1970s, together with a great majority of post-conciliar Catholics as well as the contemporary youth, constitute the segment that is more open and receptive to change. To use an unsophisticated classification again, these may be characterized as "progressive" Catholics. Inculturation in African Catholicism is usually championed by very few bishops, some theologians, and a significant number of older priests of this persuasion. Once more, this is something that is appreciated and supported by many post-conciliar members of the laity and all the youth below thirty years of age in every diocese.
Whatever their mental and spiritual orientation, both of these groups in the African Catholic Church will be surprised – some positively and others rather negatively – by what Pope Francis has to say in the present Exhortation on account of its novelty. Because one group understands its sense of holiness as involving a form of flawless private moral life achieved by observing a clear code of rules and regulations enunciated by Church authority, it will be uncomfortable with some of the things concerning social involvement Pope Francis is advocating.  Again, since the operating principle for these Christians is visible loyalty to the structures of the Church, they will be somewhat perplexed when the Pope affirms that the search for holiness is not restricted to some groups in the Church above others, or indeed to the Catholic Church alone, but is open to the whole world.
According to Pope Francis, humanity in its entirety is called to holiness and holiness can be found all around us, even in what we might traditionally consider the most unlikely places. These include homes, industries, offices, boardrooms, places of entertainment, and so on. Holiness is found wherever there is love, because "holiness is nothing other than charity lived to the full" (21). And it is gifted to all kinds of men and women, despite each one's human foibles: "Not everything a saint says is completely faithful to the Gospel; not everything he or she does is authentic or perfect," the Pope specifies in this respect. Rather, "What we need to contemplate is the totality of their life, their entire journey of growth in holiness, the reflection of Jesus Christ that emerges when we grasp their overall meaning as a person" (22). This effort represents the sign and example of godliness.
Sanctity, according to Pope Francis, is really not a matter of what you know or own at any one time "but the kind of life we lead" (47). Sincere dedication to service of the human community in humble obedience to God is what counts; it is what has counted in the vocation to holiness since the beginning of salvation history. The "progressive" group of Catholics in Africa will be pleasantly affirmed by statements of this kind scattered throughout the Exhortation. They essentially replicate the spirit of the Beatitudes. Progressive Catholics will be enlightened and reinvigorated by the Pope's reflections. They will celebrate the Exhortation as God's gift through Pope Francis. They will resonate with the document's spirituality of creative engagement with the world so as to transform it, especially in terms of political, economic and social justice and human rights, so that it might gradually conform to the reign that God intends. For, what God gives us are not rules or commands but "the face of God reflected in so many other faces" of our sisters and brothers.Pope Francis advances social justice as "The Great Criterion" of holiness: "I was hungry and you gave me food, I was thirsty and you gave me drink, I was a stranger and you welcomed me, I was naked and you clothed me, I was sick and you took care of me, I was in prison and you visited me" (95). And he wonders in a rhetorical question, "Can holiness somehow be understood apart from this lively recognition of the dignity of each human being?" (98).
And, for him, "each human being" means exactly that: the unborn, the poor, the defenceless, the migrant, the asylum seeker, the helpless elderly, the victim of human trafficking, and so on.
This is where both the challenge and the opportunity for holiness are to be found.
As supreme shepherd of the universal Catholic Church, the intention of Pope Francis in this Exhortation is to invite all of the faithful to walk together towards godliness, which is holiness, recognizing, appreciating and sympathizing with one another's struggles in community, and holding one another's hand lest or when they fall. It is only as and in relationships that we can strive to succeed on this earthly pilgrimage. Despite their different initial reactions to the Exhortation, in the long run the hope of Pope Francis applies equally to both groups of people in the African Catholic Church: "It is my hope," he declares, "that these pages will prove helpful by enabling the whole Church to devote herself anew to promoting the desire for holiness" (177).
However, there will be several – at least five – essential dispositions required of everyone for the journey. They are faith in God, joy, a sense of courage and confidence born of truth, fidelity to the life of one's community, and perseverance in prayer, that is, a sense of trust in and dependence on God. It is necessary to be aware that these values are constantly threatened in the cultures we live in today by a certain "sense of anxiety, sometimes violent, that distracts and debilitates; negativity and sullenness; the self-content bred by consumerism; individualism; and all those forms of ersatz spirituality – having nothing to do with God – that dominate the current religious marketplace" (111). Pope Francis concludes the Exhortation by affirming that, assisted by the light of the Gospel and the power of the Holy Spirit, it is against these ungodly forces that the entire Church – not least, in our case, the African Catholic Church in all its strands – must wage constant battle.